News & Media - The House Healer
I'm delighted to say that 'The House Healer' has been making some waves in the media for the past few years! It seems the time is ripe, for more people to learn about geopathic stress, and the impact it can have on their lives.

Due to the number of publications who have been keen to feature articles and radio interviews with The House Healer, I thought I'd put a page on my website so you can have a read, or a listen to a sample of my favourites.
Magazine and Newspaper articles
Please click on the thumbnail images below to read the articles (each one will open in a separate window, in pdf format).
The Sunday Times - 7th January 2017
article by Rebecca Myers
"[If you] feel your home is a little out of kilter, the Yorkshire-based Sandra Kendrew says she can alter energy and stress levels remotely, simply by looking at a floorplan of your property and local maps. Instead of focusing on energy bills, she uses a chart that goes from -1 to +5 to establish "positive and negative" energy levels.
Over the past few years, she has seen a boom in demand for her services, probably linked to the wider popularity of mindfulness and meditation. "I think people are a little more aware of energies," she says, "and I've noticed more younger people wanting work done."
Read full article online at: The Times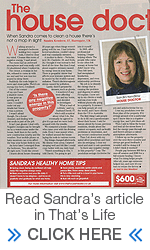 Radio Interviews
Please click on the links below, to listen to the interviews with Sandra Kendrew, The House Healer:


Radio Interview - Radio Spin 1038 (Ireland)
Radio Interview - 4fm Radio Dublin, Tom McGurk